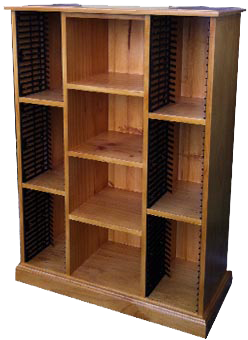 CD or DVD Pine Stacker with Shelving
We don't do plastic inserts. they are now made of solid timber
Dimensions: 1100h x 800w x 320d
All cd towers and racks are Australian made and constructed from pine timber.
The DVD and CD Stacker Timber Bookcase is not currently on display in our showroom, however we can make it upon request. We can also make it with CDs alone or a combination of DVDs and CDs. We can even make to size. Photo shows DVD storage on sides. Anything can go in the centre from more DVDs, to 'ol fashion videos and even books.
All measurements are approximate & prices are subject to change.
Colours may vary to those seen on this website. Please ask to see our colour samples when choosing your product.
Darius Peczek
When you are looking for Australian made furniture it is definitely a place to visit. I was looking for a wardrobe and have found a great selection of them, made of timber. There are also any other furniture products there. Very friendly staff provided with a sound advice on lots of choice I had there. And if you can not find what you want, they also have made to measure furniture.
Con Karras
What I like about this place is the great service, great prices and lots of choice. They can order things for you and make to measure. I love my TV unit that they made according to my sizes. Delivery was within the approximate time frame given to me too, and delivery service was excellent too. Shops like this are hard to find.
Craig Griffiths
Outstanding. Nothing was too much trouble. Very easy to deal with and their furniture is great. I got a bedroom suite and I am really happy with it. Solid timber sturdy as a brick.